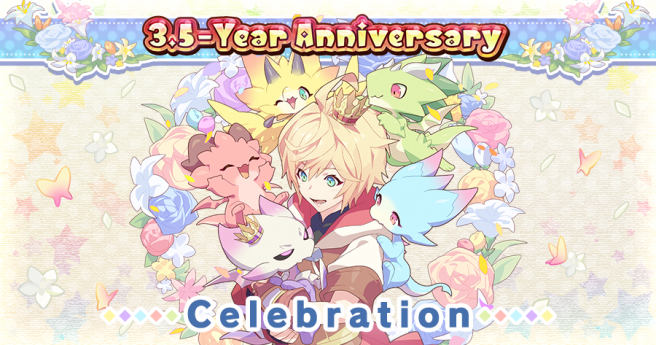 A whole host of new events have recently been made available in Dragalia Lost, including a Gala Dragalia, new Primal Dragon Trial, anniversary celebration and more! Check out what's new below the break:
 Two Gala Dragalia showcases planned to celebrate the 3.5-Year Anniversary! The first, featuring Primal Brunhilda and Gala Nedrick, is live now until March 31, and you can learn more about it here. The second will feature two more new characters, Bondforged Prince and Bondforged Zethia, and will be live from March 31 to April 6.
The latest entry in a series of high-difficulty quests, Primal Dragon Trials, is now available! Challenge the Flame Greatwyrm, Brunhilda, with her primal might restored and use the rewards to craft and upgrade new 6★ Primal Dragon weapons! Learn more about that here.
A new wyrmprint, Hand in Hand, has been added to the wyrmprint lineup and will be featured until April 27. Check out the details here.
Anniversary packs are available for a limited time under Value Packs in the Shop! You can get special deals on Adamantium and a bunch of other items as well! These anniversary packs are live now and available until April 15. More details here.
Dragalia Scratch-A-Thon is live now! During this event, log in for a chance to win items and wyrmite. If you manage to win a Scratch-A-Thon Summon, head on over to the summon screen to summon a 5★ adventurer. Don't fret if luck isn't on your side, though—if you haven't won a Scratch-A-Thon Summon by the time the final day rolls around, you'll get one guaranteed! The Dragalia Scrath-A-Thon ends April 6.
Daily free tenfold summons will be available until April 6!
3.5-Year Anniversary daily log-in rewards will be available until April 15! You can get up to 10 daily rewards, including Wyrmite, Blessed Ethon Ashes, Rainbow Orbs, Rupies, Omnicite, Eldwater, Damascus Ingots, Champion's Testaments and Sunlight Stones.
A triple drops event for Avenue to Power and a triple rupies event for Avenue to Fortune will be held alongside many other events such as triple drops for all Elemental Ruins, Dragon Trials, and Imperial Onslaught quests. This is a chance to get loads of rewards! Live until April 15, details here.
5 Star dragons Konohana Sakuya, Siren, Vayu, Takemikazuchi and Shinobi can now be unbound up to five times!
Related